Nanoleaf's research and development department must have been working overtime to create new products that are truly unique. We saw it at work with the more adult-focused "elements" range that added a woodgrain finish to your living areas rather than the "game streamer" look of the "shapes" range. Now with the introduction of Nanoleaf Lines, we see another innovation but how does it compare to the rest of the range?
We've looked at other brands that have jumped into the RGB smart light display area and none compare with colour options or brightness of the panels. Of course, the Nanoleaf has a hefty price tag to match but you are paying for longevity and quality and to some extent freedom, as the entire range lets you be creative with your choice of design when setting up your display.
The new Nanoleaf Lines range creates exactly that, removing the shape and giving you the freedom to create patterns and even words that fit your space better than ever.
Introducing Nanoleaf Lines
The individual backlit light bars with Nanoleaf Lines connect via an easy-to-install system. The bars link to smaller hexagonal connectors which can take up to six lines. Once they are assembled you use the included caps to finish off the loo. The plates are used for mounting the display and include double-sided tape and holes if you decide you want to screw them in for extra stability. Relying on the tape seems to be enough as the lines are really lightweight and there's also the benefit that if you want to change the location later you can remove them without too much damage to the wall underneath.
One of the ten mounting connectors acts as the controller including the buttons for power and other features. It connects to a Thread network as the company promised earlier in the year for their products which gives a low bandwidth mesh protocol to better manage resources in your home. It basically means better connectivity between other Nanoleaf devices.
As always there are two types of products to buy, an initial "Smarter Kit" and "Expansion packs". You'll probably find that there is not quite enough to achieve your artistic goal in the initial pack and you'll go back for an expansion pack later.
Other Nanoleaf Lines expansion elements are black and pink skins that snap onto the plain white bar. So you can create that unique panel look or have it blend more into the surroundings. 
Focusing on the light itself, the main thing that stands out is that this product is brighter in every way. There are up to 16 million colours supported as well as colour temperatures cool to warm and each light can push out 20 lumens. This creates a really stunning wall display that creates a fun and unique mood for an area. It feels like Lines are made for "style" rather than practical use and I'm all for it.
It's easy to get caught up in getting the new product and rushing into your design. But remember to take the time to really plan out your style. Once it is up in the space you have, you don't really want to be taking it down again, and dealing with the double-sided tape in that situation can be a pain. 
Use the layout assistant on the app, that is what it's for. It uses augmented reality features to show you what your design is going to look like and helps you to make better choices. If you are still undecided try to use the shuffle feature to generate a design and you might just find the right one pops out at you.
Features
The features on the new Lines device mirror those of the types before it. There's a microphone built into it to pick up sounds that help the Lines to pulse along to music you are playing or even blend with a movie or video game, using the scenes like "Beat Drop" or "Hip Hop" can add to this experience.
A feature lacking in Nanoleaf Lines is the touch sensitivity that other Nanoleaf products include. This places it more in the Elements range than the shapes, but it's kind of a hybrid. Not having this feature is not a deal-breaker for me as I found using the touch was great fun to show off, to begin with, but becomes an unused feature quickly.
Using the computer app from Nanoleaf you can make the lines be an extension of your desktop. You might have seen images of the colours being replicated around a standard TV as well. This is a bit deceiving as it's only possible if you are streaming to the TV from a computer. I've no doubt that the team is working on a more direct way to accomplish this though.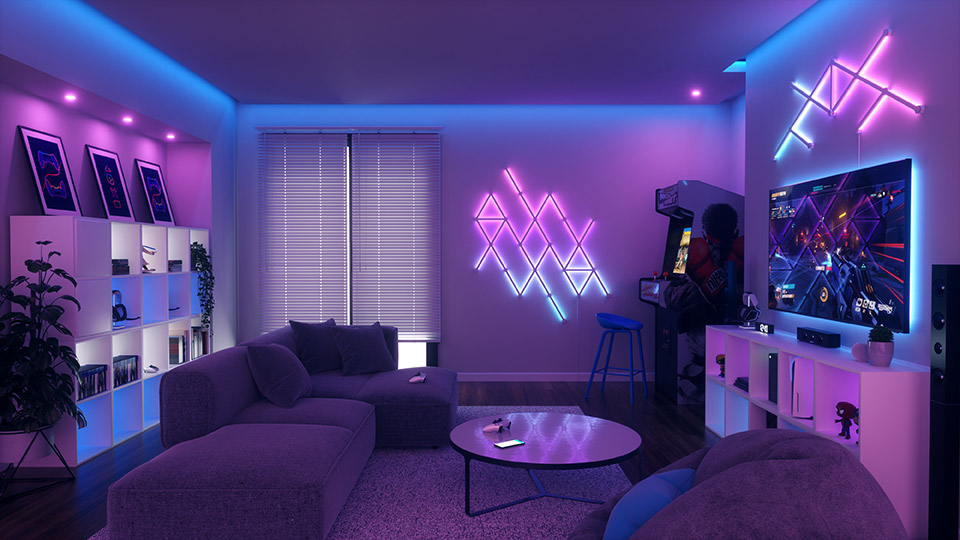 As usual, if you link your Lines with other Nanoleaf products you can create some pretty amazing light and pattern displays across your area. A good combination is using the Elements range's A19 Bulb for more subtle uniformity.
Final Thought
The Nanoleaf Lines range is a great step into a more unique RGB setup. I could really see this setup above a full RGB gaming PC display to complement and enhance a streamer's space. It would also be a great addition to a workplace if your logo can be recreated using the lines. It would be a powerful office or reception area talking point. 
The product is easy to install and compatible with Apple HomeKit, Alexa, and Google assistant. But most of all it's a stunningly bright and colourful way to dress up an otherwise dull and boring space. 
A Nanoleaf Lines Smarter Kit (starter pack) will set you back around $349 and includes 9 bars whereas the expansion kits give you 3 more lines for $119. There's also a larger 15 pack available which is $549.
If you missed the review for the Nanoleaf elements range see it here: Smart Lights for "Grown Ups" – Review