There are several smart hubs available on the market from big companies like Amazon, Apple and Google. One of the most compatible devices is the Google Nest series and particularly the "hub" is a really great device that gives you a surprising amount of useful technology in one little package.
While it's handy for playing music and watching videos, it's the ability to link your other smart home devices together and perform tasks that can assist you in everyday life that is really groundbreaking. 
So here are 5 hacks to improve your life with a Smart Hub.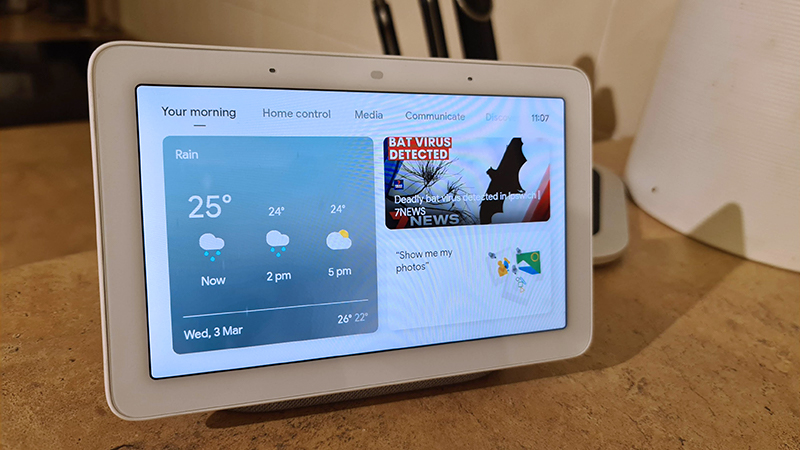 5 – Turn It Into A Digital Photo Frame
One of the ways I managed to get a Google Nest Hub into the house past my wife's complaints of "Do we really need another screen?" is the ability for it to display as a digital photo frame. Showing pictures of the kids and scrolling through other fun family moments in our linked photo account makes it a seamless part of your decore.
It's really simple to activate as well, just tap on the Google Home app on your phone, tap the cog icon, select "Photo Frame", and then Google Photos. From here, you can make choices on what albums or even single photos to display.
4 – Turn It Into A Nest Camera
If you have the "Nest Hub Max" you can make video calls using the camera but a great hack is to use the device as a security camera. To achieve this open the Google Home app on your phone, tap Nest Hub Max, and choose Set up Nest Cam. The device will then take you through the steps to get a live feed from the camera. Extra security, or use it as a baby monitor.
3 – Cast Your Content to a Slightly Better Screen
Watching things on your phone can be great, but what if you want a screen that's just a little bigger. The Nest Hub and Nest Hub Max work as Chromecast devices. So a device set up on your home network will appear as an option when you select the Chromecast icon in any apps on your phone.
2 – Broadcast A Message to Your Smart Hub
If you have a large living space, yelling "Dinners Ready" through the house can be a bit tiresome. So instead make a short message that can play on every Google Home and Nest device in your smart home. Simply swipe down from the top of the screen to access the Home panel and tap on the Broadcast icon. Speak your message, and it will send. You can even target specific rooms.
1 – Control Your Multiple Smart Home Devices
The list of devices you can control in your home is endless from smart lights and plugs to vacuum cleaners, fridges and garage doors. In fact, you may not even know some of your devices have smart abilities, so check them and make sure you add them to your profile.
Then you can manage them all from the Hub, swipe down to see the gadgets connected to the Google Home app. From here you can even write little routines. So have a morning routine that turns on some lights, plays your favourite radio station and tells you what the weather is going to be, it might even turn the kettle on for you. A nice easy way to start the day.
It really feels like the future is here, and we are ready to embrace it.
---
Interested in Google Hub, Here's an idea. You can mount it to the wall using one of these
There are multiple ways to purchase a smart hub, either through Google or in Australia via providers like Telstra. Telstra even have a points system for members where you can accumulate enough very quickly to puchase Google home products.
If you want an alternative then look at the Alexa Show from Amazon
Want more articles like this, let me know here